Nov
28
2011
Spending Thanksgiving on Folly Beach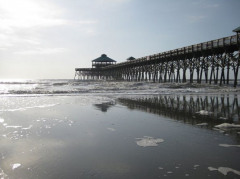 Spending Thanksgiving on Folly Beach is a special tradition for a number of families, and this year was no different. Standing barefoot on Folly, especially on a crystal clear day, is of course something to be very thankful for.
If you enjoyed the holiday with us this year or in years past, we would like to hear all about it. How many years have you been giving thanks on Folly? Where do you stay and who joins you? Any special stories or things you are most thankful for?
Have photos you'd care to share? You upload them
here
.
Categories
Plan Your Next Visit
Search Folly Beach Vacation Homes
Book Now